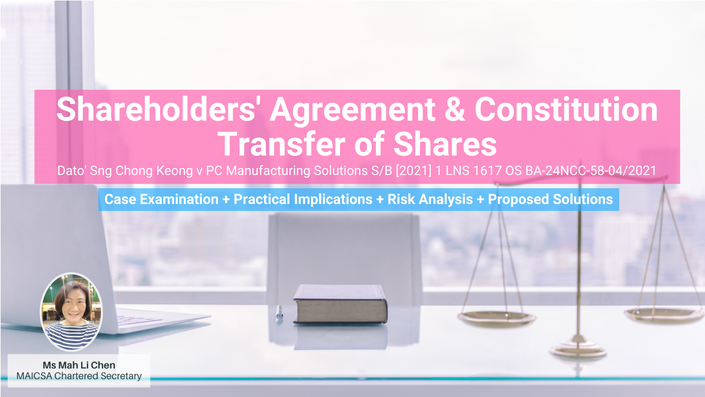 (English) Shareholders' Agreement & Constitution Transfer of Shares (Case Analysis: Dato' Sng Chong Keong v PC Manufacturing Solutions S/B) by Mah Li Chen (MAICSA Chartered Secretary)
Sign Up Now at RM 29. Price will increase to RM 49 after (Thu) 01.09.2022 11pm
For Credit Card Payment, click Orange Enroll Button Above this Sales Page. 👆👆👆
For Online Bank In, click this link 👉 https://www.learnabee.com/p/bank
For FAQ, click this link 👉 https://www.learnabee.com/p/faq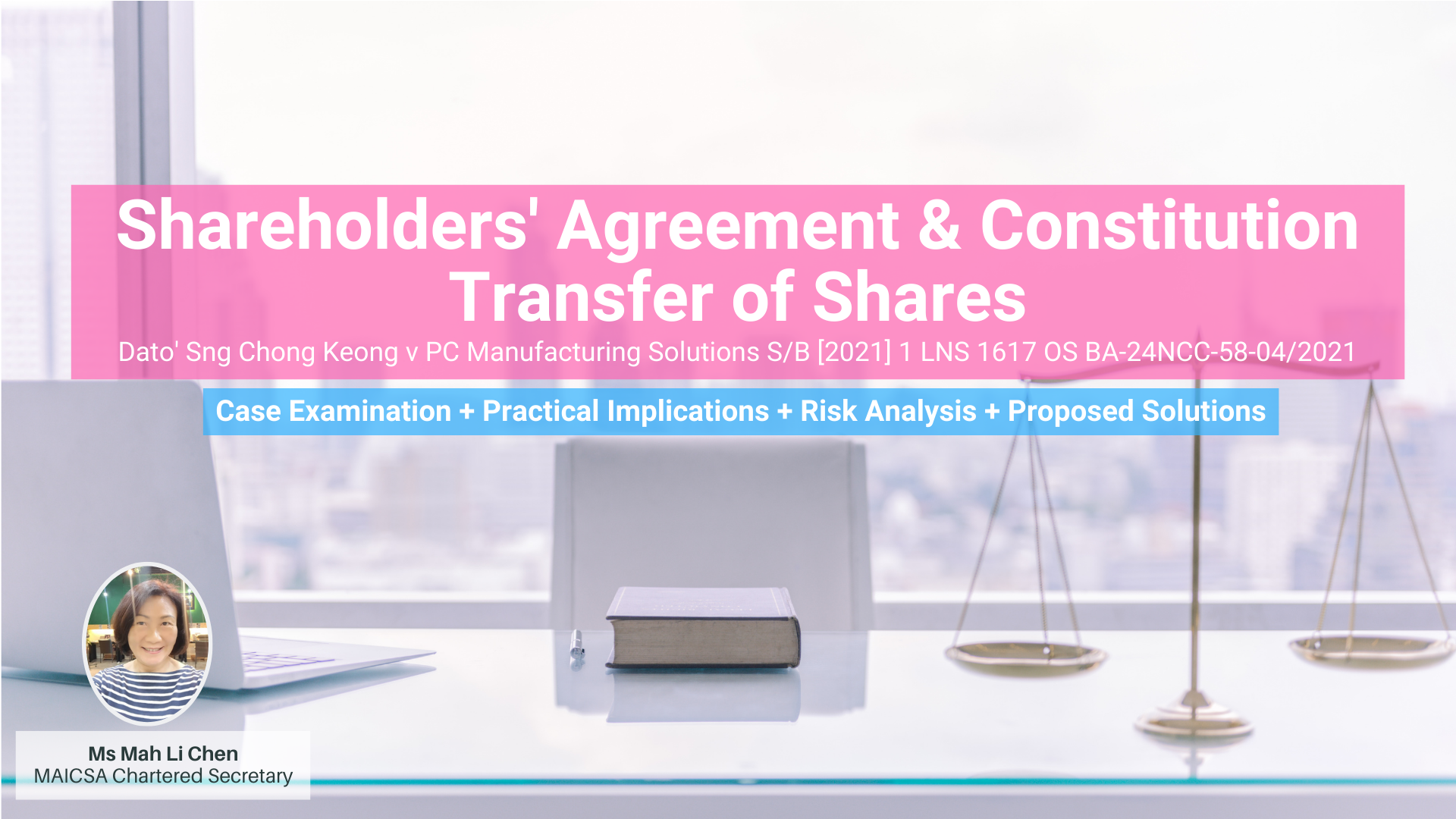 Upcoming Webinar: 09 & 16 August 2022 (Tuesday)
Title: Shareholders' Agreement & Constitution Transfer of Shares
Speaker: Mah Li Chen (MAICSA Chartered Secretary)
Webinar Schedule
16 August 2022 (Tuesday)
11am - 2pm Webinar starts (Exclusively for Paid Participants only)
Payment inclusive of

Unlimited Replay
Unlimited Download of Presentation Slides & Notes
Certificate of Completion to manually claim your CPD/CPE points.
No Jam. No Parking. No Virus.
Bee Happy. Learn Online.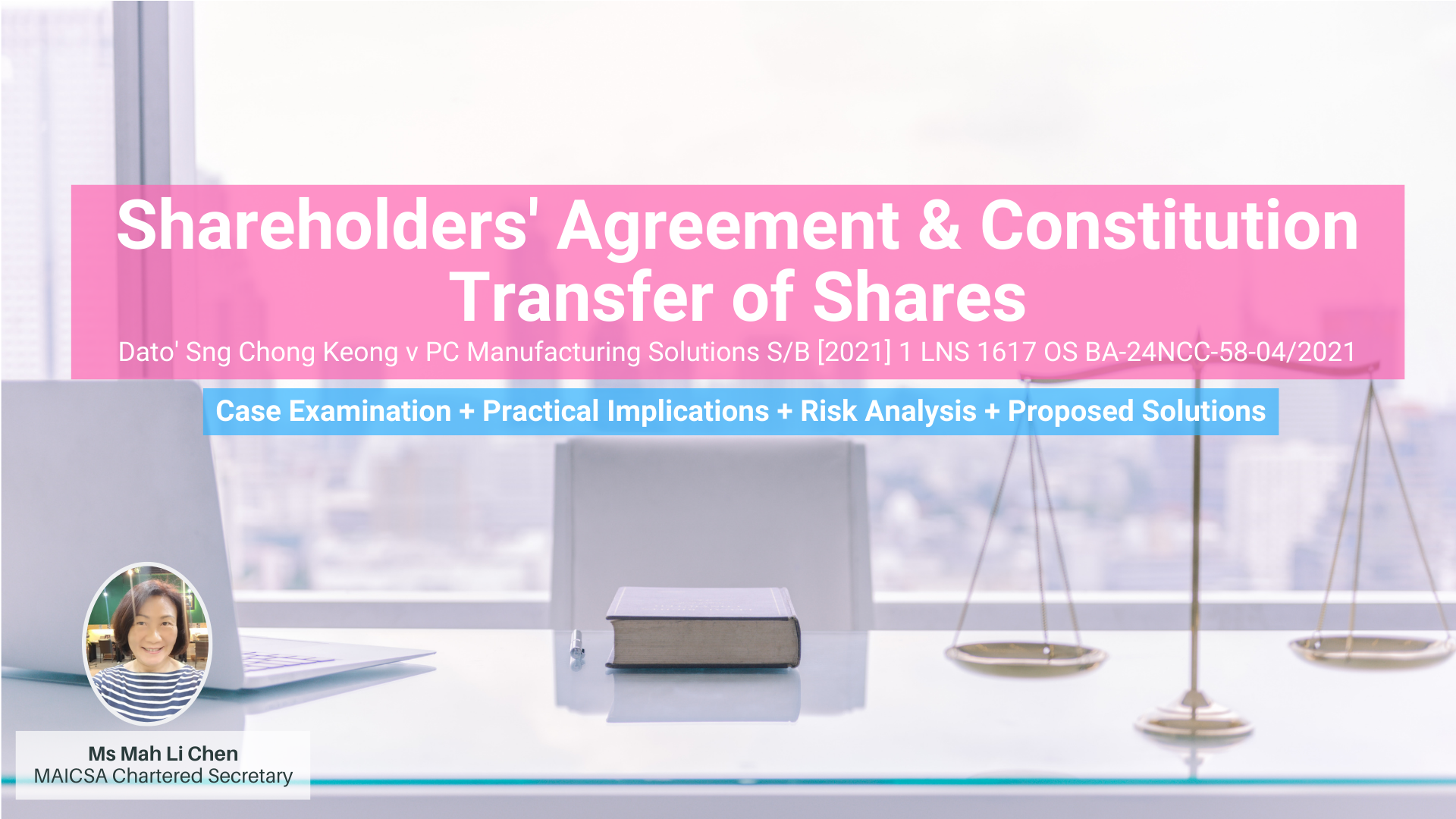 Webinar Outline
# 01 The Law
Section 105, Section 106 and Section 107 of the Companies Act 2016

#02 Parties
Plaintiff (Dato' Sng Chong Keong) v Defendant (PC Manufacturing Solutions Sdn Bhd)
2 incumbent directors
4 new directors
3 shareholders

#03 Chronology of Events
Share Sale Agreement
Shareholders' Agreement
Directors of the defendant-company and shareholders
Application to transfer shares
First rejection of application to transfer shares
Second rejection of application to transfer shares

#04 Overview of the Case
Plaintiff's Main Suit
Defendant's Counterclaim

#05 Issues
1st issue: Whether the terms of the Shareholders Agreement which have not been incorporated into the Memorandum and Articles of Association of the Defendant-company are binding between the shareholders inter se; and between the shareholders and the Defendant-company?
Beh Chun Chuan v. Paloh Medical Centre Sdn Bhd [1999] 3 MLJ 262
Tung Ah Leek & Anor v. Perunding DJA Sdn Bhd & Ors [2005] 3 MLJ 687
ISM Sdn Bhd v. Queensway Nominees (Asing) Sdn Bhd & Ors and Other Suits [2021] 7 MLJ 506
Golden Harvest Films Distribution (Pte) Ltd v. Golden Village Multiplex Pte Ltd [2007] 1 SLR 940
The Wellness Group Pte Ltd v. Paris Investment Pte Ltd and others [2018] SGCA 47
Far East Holdings Bhd & Anor v. Majlis Ugama Islam dan Adat Resam Melayu Pahang [2018] 1 MLJ 1
Court's decision

2nd issue: Whether the Court has a discretion to order or refuse to order the registration of share transfer under section 107 of the Companies Act 2016?
Section 107(2) Companies Act 2016
Court's decision

3rd issue: Whether the discretion of the Court is lost or becomes inapplicable defunct in the event of the Defendant company's failure or neglect to reject the Plaintiff's request for share transfer within the time or according to the procedure stipulated in section 106 of the Companies Act 2016?
Section 106 Companies Act 2016
Section 107(2) Companies Act 2016
Section 91 Companies Act 2016
Section 111(7) Companies Act 2016
Section 582 Companies Act 2016
Court's decision

4th issue: What are the factors and criteria to be considered by the Court in exercising its power under subsection 107(2) of the Companies Act 2016?
Section 107 Companies Act 2016
Emas Kiara Sdn Bhd v. Michael Joseph Monteiro (Receiver and Manager of Lembah Beringin Sdn Bhd) & ors(Farcoll Estate Sdn Bhd & Ors, Interveners) [2018] 5 MLJ 54
Sarah Sayeed Majangah (t/a sole proprietor under the name and styles of Sayfol International School) & Anor v. Lembaga Getah Malaysia & Anor [2016] 3 MLJ 812
Kumpulan Perubatan (Johor) Sdn Bhd v. Dr Mohd Adnan bin Sulaiman [2015] 1 CLJ 471
Court's decision

5th issue: Whether the Court should order the Defendant-company to register the share transfer in the circumstances of the present case?
Shareholders' Agreement and Deed of Adherence
Transfer of shares by PCMS
Transfer of shares by Shareholders
Court's decision

During the Paid Session, Li Chen will be sharing on below

Comment #01 Changes ?: When a company enters into a shareholder's agreement, what are the things that will change?

Comment #02 U-Turns ?: Is there a clause in shareholders' agreement that will allow a U-TURN? Just in case for some reason the shareholder's agreement fell through? The two parties decided not to proceed with the shareholder's agreement.

Comment #03 Shareholder to appoint Director ?:
For shareholder's agreement, minority shareholders may have a right to appoint the directors onto the board, they may request company / directors to appoint their nominated director onto the board.

Singapore case (2018): Singapore Court of Appeal in The Wellness Group Pte Ltd v Paris Investment Pte Ltd and others [2018] SGCA 47 we are able to explore the case under Malaysian perspective and see whether it is a statutory right of a shareholder to appoint director. Now it is incorporated into S202 of the Companies Act.

Your Instructor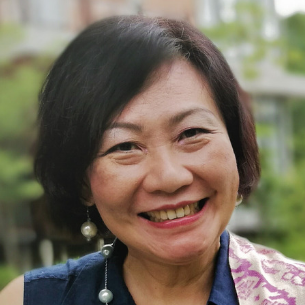 Mah Li Chen graduated with the ICSA qualification on 27 September 1995. She has since completed her LLB with Honours in 2003 from the University of London. She is a Chartered Secretary by profession with more than 30 years of working experience in mainstream corporate secretarial work. She has been speaking on various topics relating to the Companies Act 2016, corporate secretarial practice, corporate governance and listing requirements for MAICSA (a division of CGI - Corporate Governance Institute), Bursa Malaysia Berhad, Federation of Public Listed Companies, Malaysia Institute of Accountants ("MIA") and several other professional bodies as well as in-house seminars for a number of companies.
Course Curriculum
(English) Shareholders' Agreement & Constitution Transfer of Shares by Mah Li Chen (MAICSA Chartered Secretary)
Available in days
days after you enroll
Pre Recorded Training Videos
Available in days
days after you enroll
Training Materials
Available in days
days after you enroll
Frequently Asked Questions
Language Available ?
English
Payment
One Time Off, No Annual Fee, No Renewal Fee. Payment Method: Credit Card or Online Bank In.
Venue & Access
100% Online Learning 24/7 Anytime, Anywhere
Am I Allowed to Post Questions Directly to Trainer During and After Live Webinar ?
Yes, you can. Happy leh ?! ...
How many times can I view the video replay ?
Unlimited times. Wonderful leh ?! ...
Are the Video & Training Materials downloadable ?
Yes, downloadable. Good leh ?! ...
Do You Issue Certificate of Completion ?
Yes, upon completion of the online training, you are able to download the Certificate of Completion. Syiok leh ?! ....
Sign Up Now ... See you "inside" the paid area soon !
We highly encourage you to pay via credit card for instant access to the content.
However, you have the option to pay via online bank in method, Click Here for Instruction to Pay Through Bank

---
Hi, My name is EvannaMiss8. I am a One Leg Kick , Happy go Lucky Organiser & Producer of Webinars & Online Training for Professionals, Directors & Management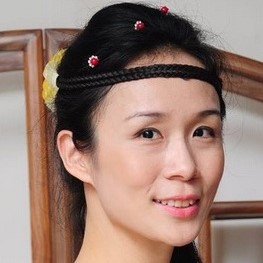 If you are still blur blur about this webinar, no worries ya ... you may contact me directly using any of the below methods
Email: [email protected]
Whatsapp: +6012 203 8046
Facebook: https://www.facebook.com/learnabeeOfficial/
Bee Happy, Learn Online ...
Important Note: If you want to download the Certificate of Completion at the end of this course, please make sure the FULL NAME you key in is 100% Accurate ya ...